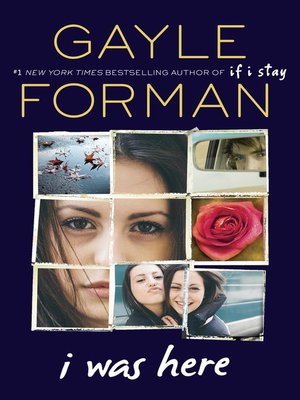 Cody is heart-broken and stunned when her best friend Meg downs a bottle of industrial-strength cleaner. Sure they had grown apart since Meg left their small town to attend college, but wouldn't she know if her best friend was depressed? When Meg's family asks Cody to retrieve her belongings, she uses the trip as an opportunity to find closure but only ends up with more questions. What was Meg hiding in an encrypted file on her laptop? What secrets are Meg's roommates keeping? And what role did mysterious and handsome Ben, the guy Meg had a short-lived fling with, play in her suicide? Cody is determined to find the answers to these questions and solve the mystery surrounding Meg's death.
Gayle Forman has a knack for writing authentic characters and I Was Here highlights that ability even more than her past novels. Cody rang especially true to me as a grieving friend. She wasn't perfect: she was moody, lashed out at those around her, and was consumed by guilt. These are trademark characteristics of a person who has suffered a devastating loss. I found myself becoming more and more absorbed in Cody's emotions as the story moved along. I became so absorbed that I started ugly crying on my living room floor and scared my dog.
Forman also delves into Cody's home life and her budding relationship with Ben (it wouldn't be a Gayle Forman novel without a little amore). Many people will relate to Cody's strained relationship with her mother and her feelings of being trapped in a small-town. So much of this novel was beautiful and real, especially the aspects about family and friendship; however, the romance between Cody and Ben came off as cliché at times. If you're looking for a love story, try If I Stay instead.
Overall, I Was Here is a powerful and honest exploration of grief and self-discovery. It is definitely a worthwhile read, just make sure to keep a box of tissues handy. I Was Here is perfect for fans of John Green and Maureen Johnson.